Discussion Starter
•
#1
•
I finally got around to doing it. Albeit not as sophisticated as BX-459, it did open up some really choking air ways. So here are a few pics of what i did after doing research here.
First i got a spare Airbox from ebay, just so that if something went wrong my bike would still be ridable. I got lucky and got a 97, it did not have the Pair Valve piping into it. One less hose to plug. Then i began hacking away. I removed the flapper using some Channel locks to grip the vacumm actuator and twist.. it came right out when the lobs aligned. Then just twisted the actuall Flapper right out. After that.. it was DRILL time. I used the drill to make lots of little holes. Then used a Flat bladed screwdriver as a chisel to get the plastic "broken" out. I tried to use a saw.. hell, i have normall hands and my tools were just to cumbersome to get in there. Trying to make tight turns with a flat blade was tooo damn hard. So, out came the drill. Cordless drills are great. I used Fiberglass, just for smiplicity sake. The local hardware store "ace" had a Bondo brand Fiberglass Repair Kit that had all i needed to do what i did. Enough epoxy and Resin/hardener as well as Fiberglass matt. I think it was like 15 bucks. Nice and affordable. :thumbup I Used 80 grit paper to do my rough sandign with. I roughed up Both the front and back-in relation to bike-of the Tunnel so the Resin would have a good hold of the old plastic. After i did all the "Glassing" i then used 50 grit to smoooooth it all out. I did not get carried away seeing that the airbox tunnel would not be seen easily. I did two layers of glass matt. The first one was interesting... i did not follow the instructions perfect and ALMOST cut my glass matt too small. It worked, but when the directions called for a couple of inches extra to cover with, you need it, As i found out. When you saturate the glass matt, it seeeeeeems to shrink up, whether or not it really does i am not sure, BUT, on the second layer i made it about an Inch wider than the last so i would have lots to work with. After the first layer cured, i sanded it smooth and got it ready for layer two. Be sure to let it cure for a FULL 24 hrs. I got realllllllllllllllllllly lucky when i laid down the first layer of glass, the natural curve of the intake tunnel kept the wet glass in place nicely enough i did not have to use additional support. I made the overlap extra long so that the matt would hold it self and it worked!! I cant believe one of MY ideas actually worked!! ok, So once the first layer was cured, i cleaned up the edges and then used a toothbrush sized steel brush to rough up the new glass so the 2nd layer would adhear to it. After applying the second layer, i let it sit for a few minutes untill it started to set up, i then took some Utility scissors and trimmed off the Semi Hardened Matt. this Greatly reduced sanding time and effort. WARNING-when you sand this shit, wear an Air mask, and run the vaccume to suck the dust up..this shit is messy. After it all cured up i sanded to my liking and called it good. I put fresh weahterstripping foam on the intake tunnel so the seal would be complete. I to got it from Ace. All in all it turned out pretty good. I look forward to a dyno run and a custom map to see what performance gains have been made.. if any. :devious
I also found out that one gallon Milk jug that has been washed and dried makes a great Resin mixing bowl, that is after you cut the bottom off of it. The Resin did not stick to the bowl, i am not sure why, but it allowed me to literally "pop" the cured resin out of it after each layer had cured.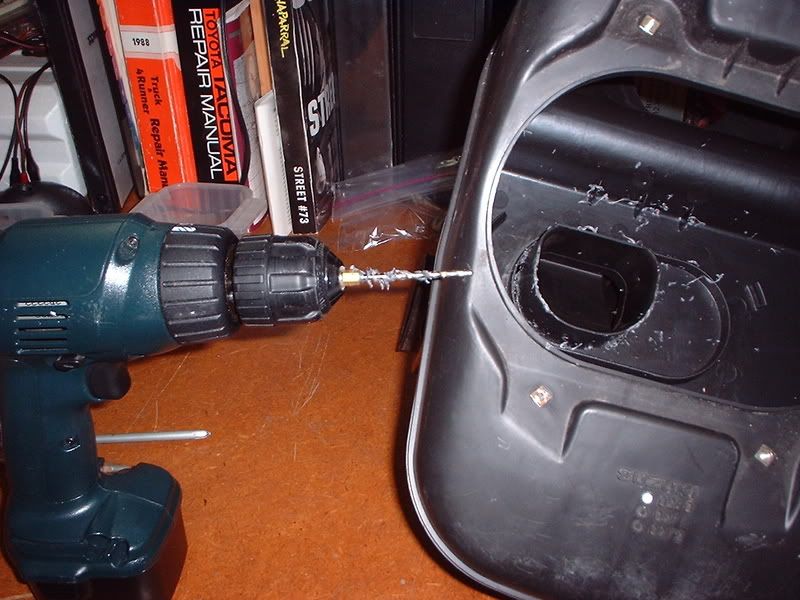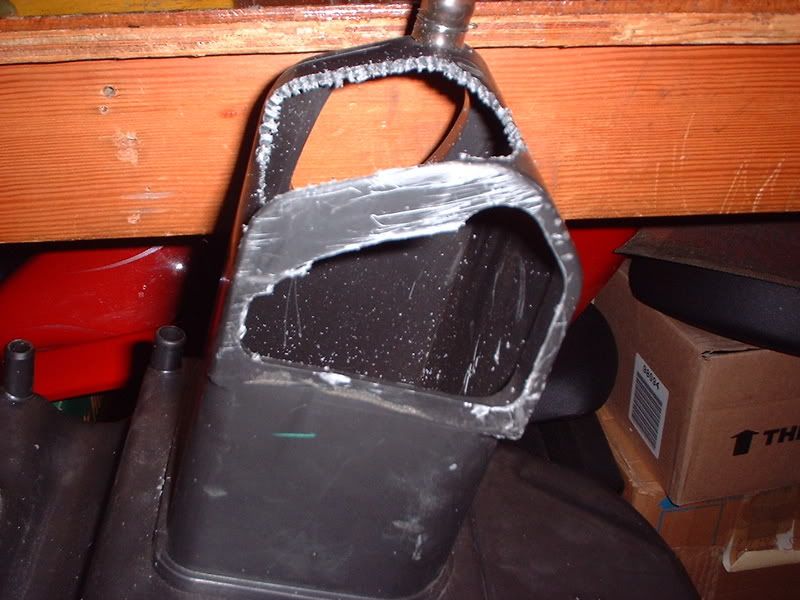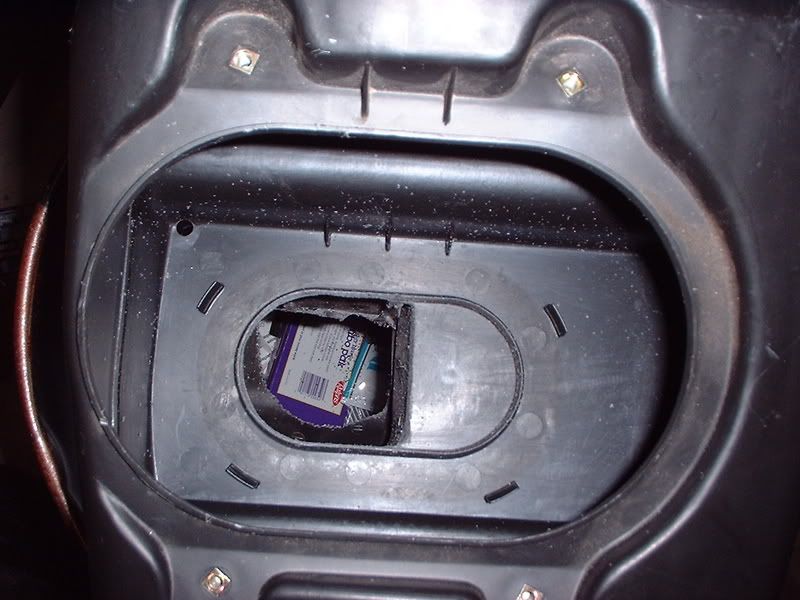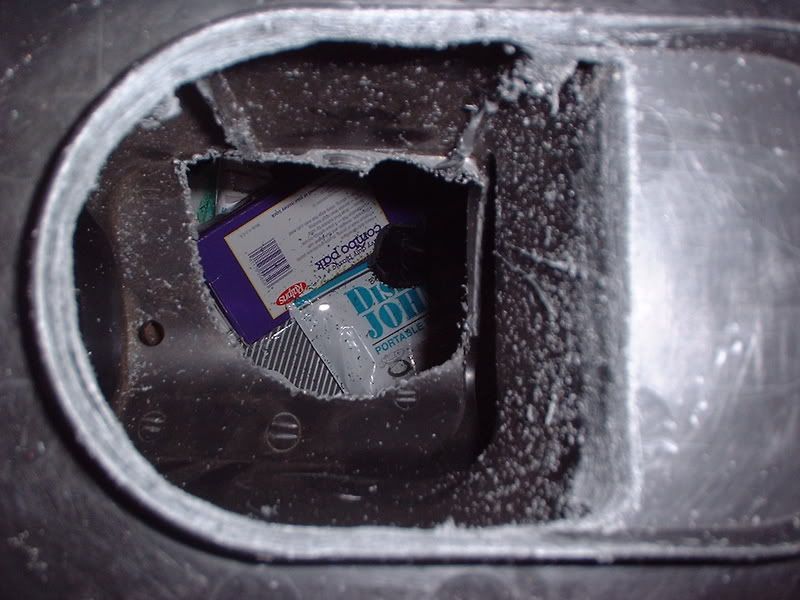 The first layer of glass...
First layer of glass cured and getting ready to trim and sand to prep for the next layer.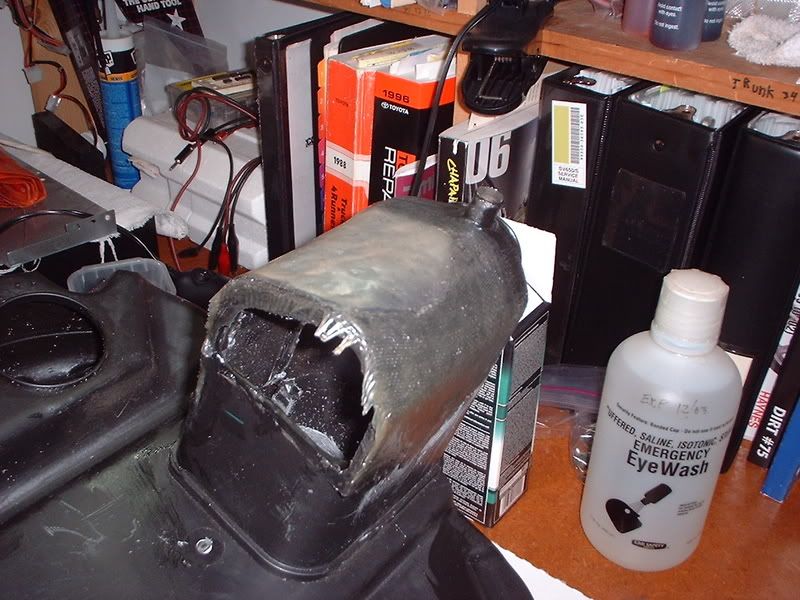 The pizza box was used just to balance airbox for photo opp. The second layer is on and curing now.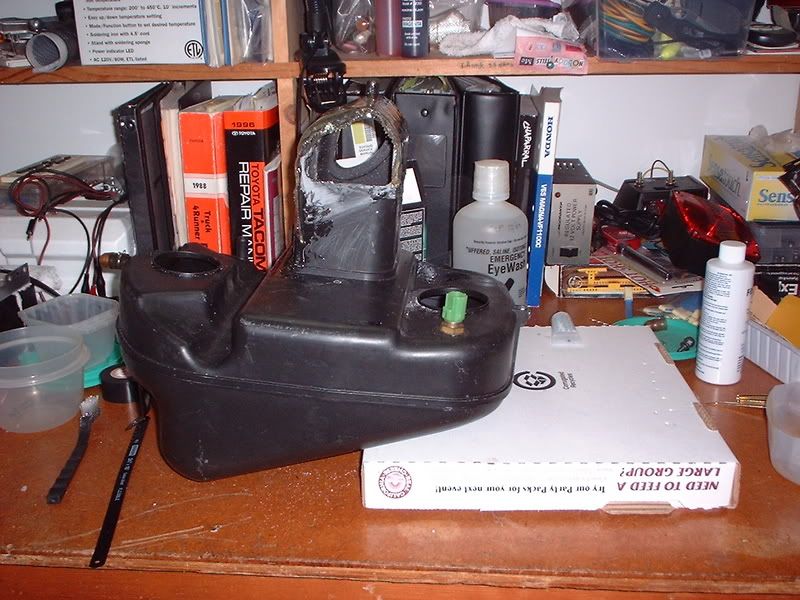 The second layer has cured and is solid, hence my finger pokeing at it..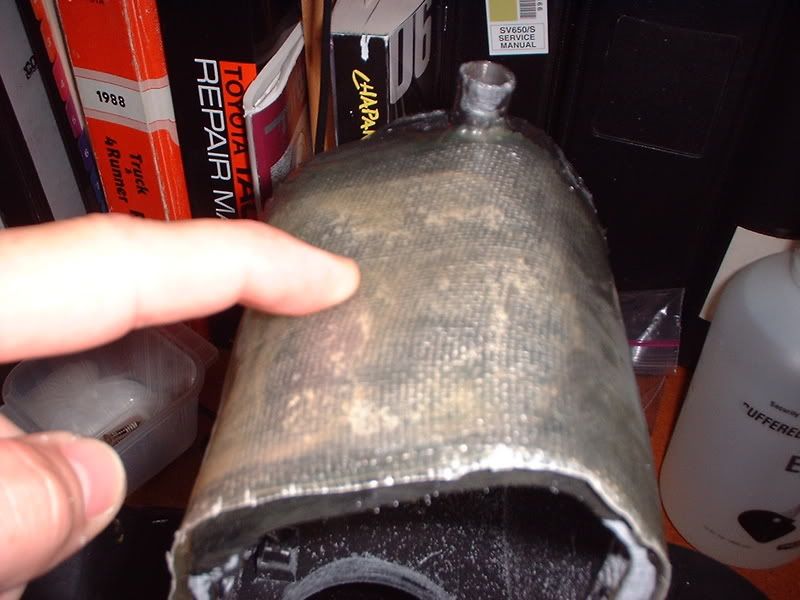 now in the first stage of sanding..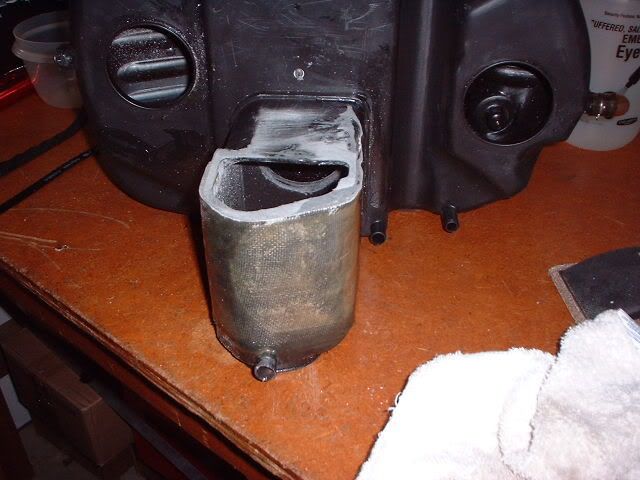 2nd stage....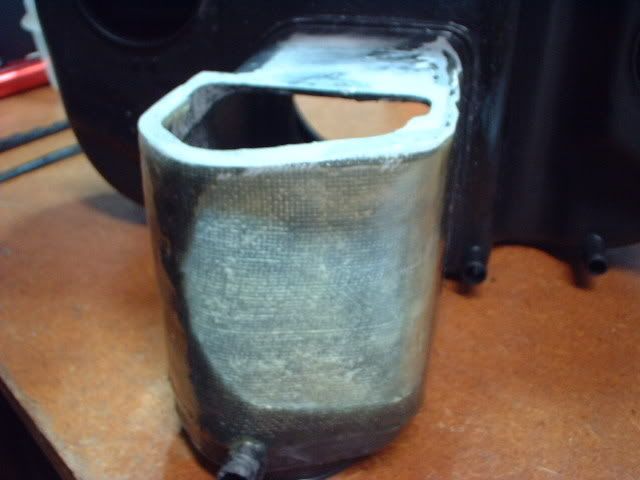 3rd stage...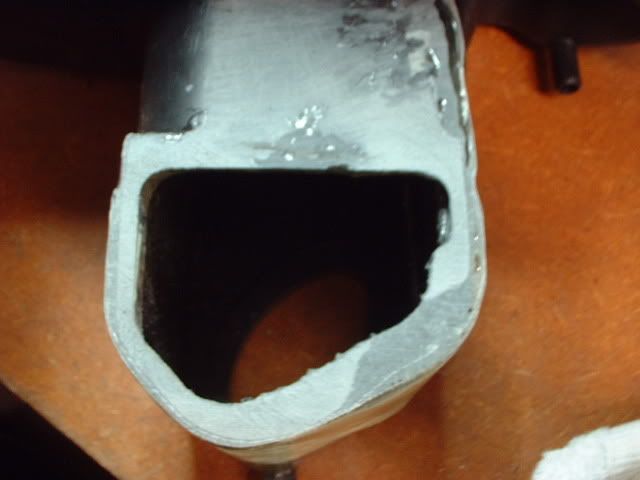 4th and Final..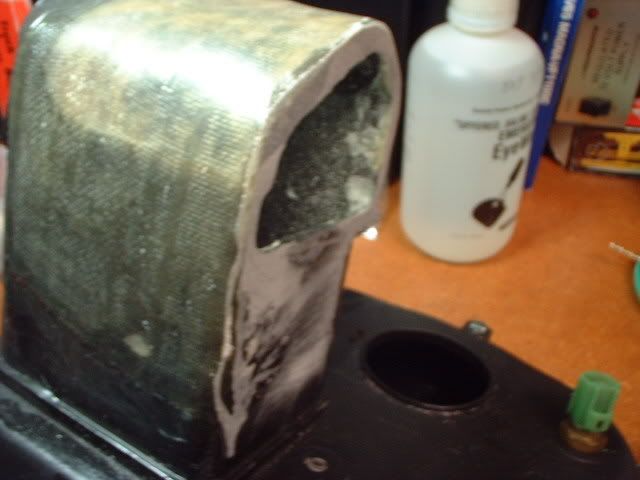 And of course a pic of my milk jug mixing station...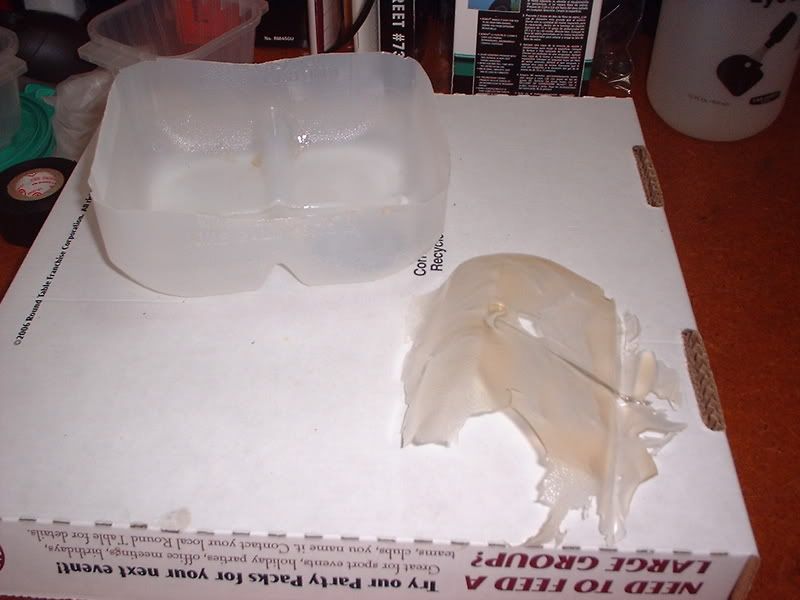 And last but not least my fresh Foam weatherstripping...