We set off on Saturday morning with the usual mix of excitement and apprehension in anticipation of what was to come. We normally use P & O for the ferry but this time thought we'd try Norfolkline. I must say we were impressed, a very nice boat with hardly anyone on board and no screaming children.
Off the boat in France and the trip was well and truly under way. Trundling along the Belgian motorway and guess what? We couldn't believe our eyes! Right there in front of us were BillyTLR and Hazzy in the camper van....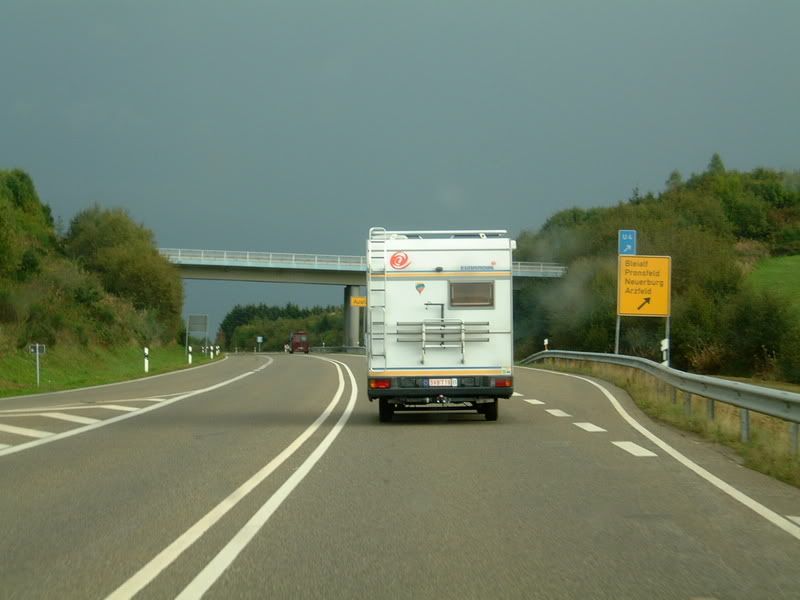 Just shows you that the camper gets around :laugh
The weather all the way down was lovely until we reached Germany when it started to lash down. Ho hum, no track time till the morning then. That made it beer o'clock in my book. Off to the bar it was and everyone was in high spirits thinking about the morning.
Sunday morning and the sun was shining when we woke up so it was a quick breakfast and then straight off to the track. It was absolutely heaving and very busy on track all day. There were a LOT of incidents including quite a few spillages :scared but they managed to keep the track open through most of them. There was only a couple of short closures on the Sunday and we managed quite a few laps.
The one thing that concerns me about riding the Ring is the risk of exiting a corner and finding a spillage of some sort or a car across the track in front of me. The reality is, however, that I don't think about it when I'm actually out on track. If I did then I probably wouldn't go out at all.
More beer on Sunday night as we thought the track didn't open until 1pm on Monday afternoon. Actually it opened to the public at 9 am but was still wet so it was a case of watching the cars go round.
A French BMW had the decency to crash right in front of me. He was lucky and it was only a light tap.....(recorded on mobile phone)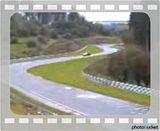 I did one wet lap in the truck which was absolutely hilarious. Garry was in the passenger seat and Richard was in the back. Now bear in mind that the truck has the regular teflon-coated-concrete tyres that I use every day. A whiff of throttle in the wet and the back comes round faster than Garry when someone's at the bar.
Just as we exited Brunnchen I gave it a little too much and the back end snapped to the left, full opposite lock and then back the other way, full opposite lock again and I just managed to save it. The funniest part though was Garry hanging on to the "Oh Christ" handle, screaming like a girl and shouting... "we're going, we're going" :laugh . A dry line then started to form and so I went for a couple more laps with Kev as passenger with the back end drifting nicely. A bit of showboating for the crowd never goes amiss.
Here's the truck with the back end just starting to drift nicely...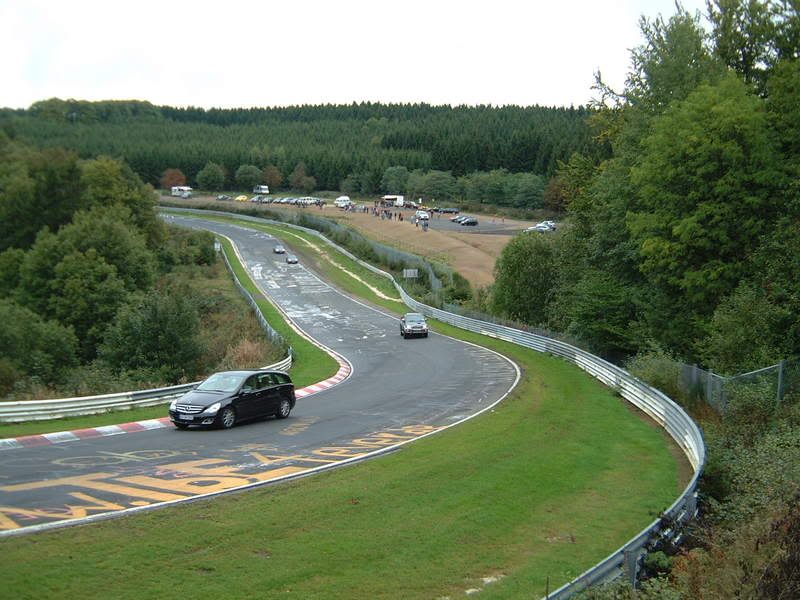 The track then dried out nicely so it was off to get the bikes for a few laps.
A lot of this...
leads to nicely scuffed sliders...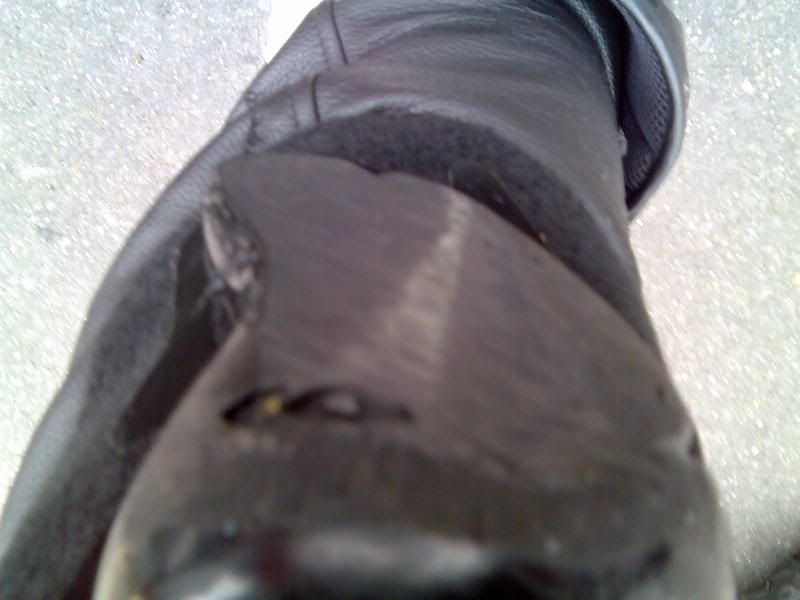 and tyres that end up looking like this...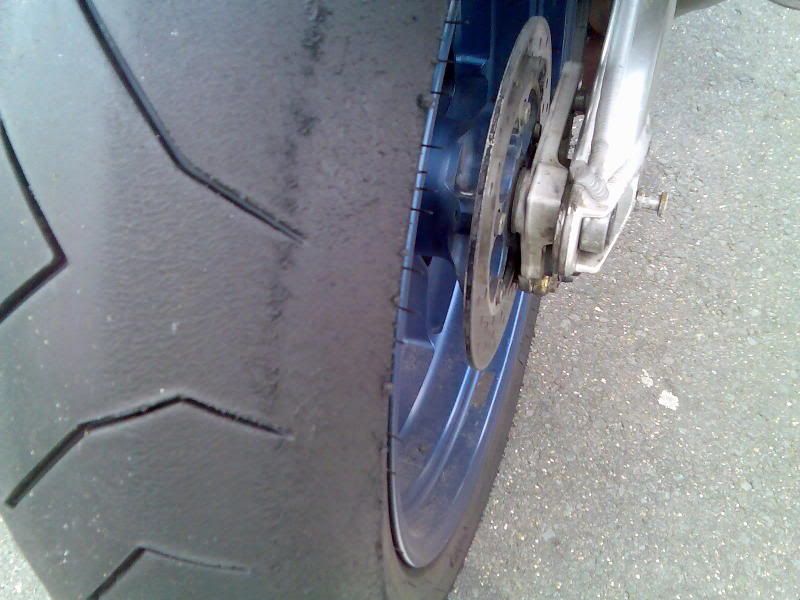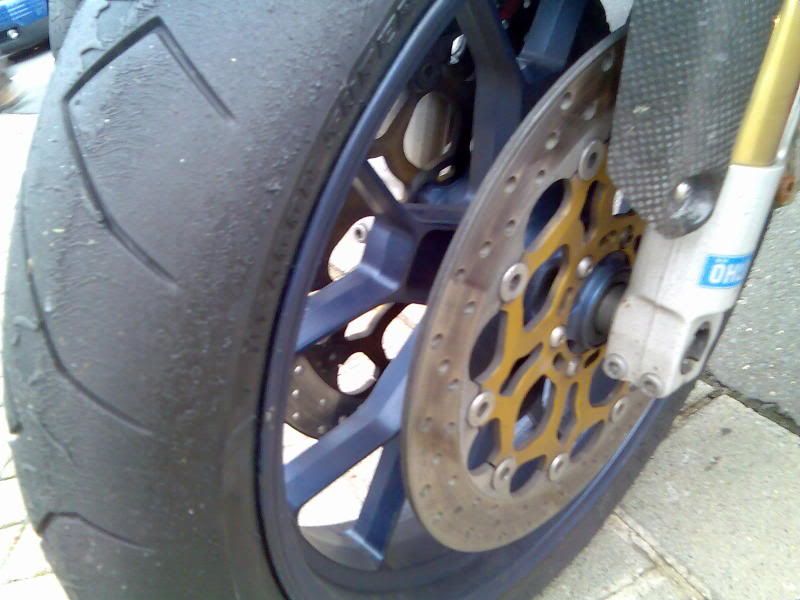 which in turn leads to a face like this after many beers in the evening...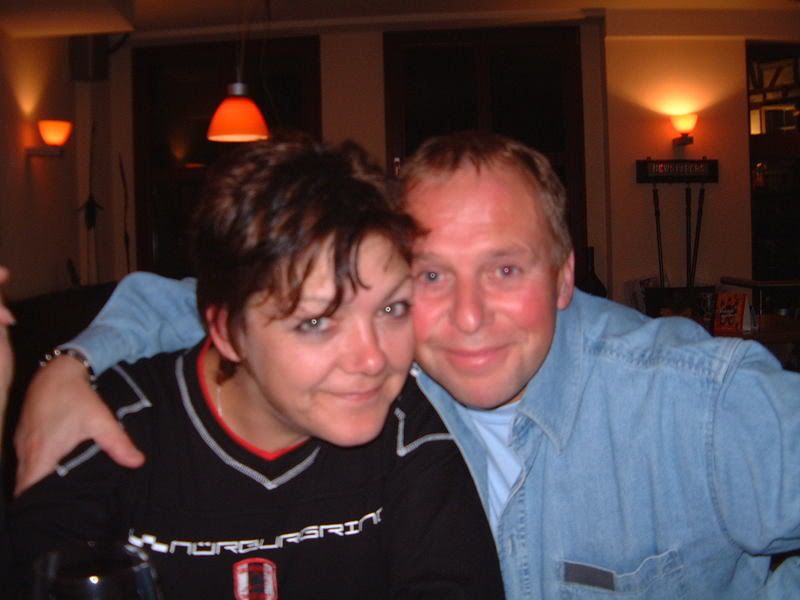 Now some of you may have realised that my sliders are now nicley ruined. Yes, I got my knee down:hail , both of them actually. I can know drag my knees at will and when I saw a crowd on the corners it was rude not to drag it as far round the corner as possible. At one corner I had my right knee firmly planted and making a lovely "ssccrrssshhh" noise whilst waving to the crowd with my left hand. What a poser! Why not style it up I say.
In the evening it was yet more beer...
and silliness abounded...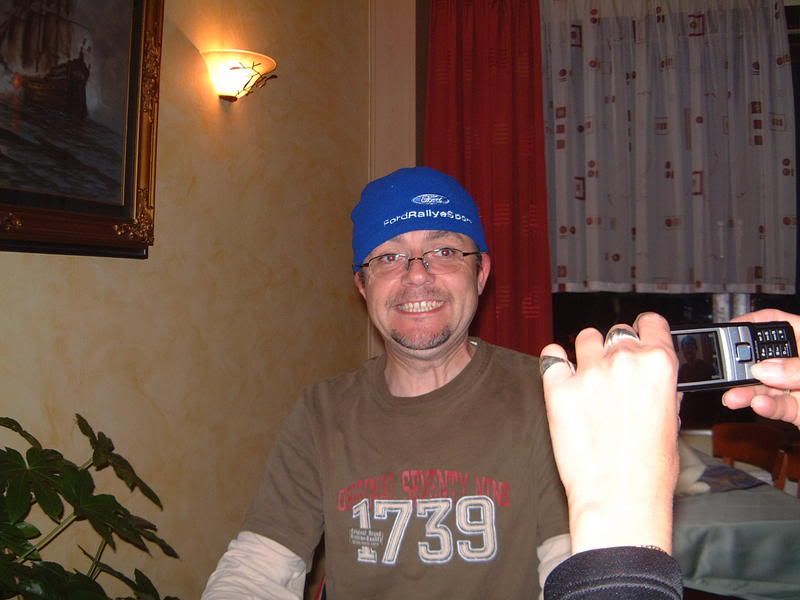 This is Gadget-Jayse who had an Evo. By God those things can shift. I went for a lap with him on Sunday. He didn't know the track so I navigated for him and he said it was really helpful, so much so that his mate who was in the back wanted me to navigate for him. I may have missed my calling...............co-driver anyone?
There was a long closure on Monday afternoon when a bike had crashed on the last corner, which is a very fast part of the track. It seems he had gone down on a spillage and piled into the armco. The air ambulance was called which is always a very bad sign that they don't expect the rider to make it. It actually resulted in the track closing completely for the day, presumably so that the police could conduct a full investigation. We never did hear whether he made it or not.
Garry discovered that he is too much of a mutant to fit onto a bench...
Tuesday the track was open all day and once again it started off damp but soon dried out enough for us to take the bikes round.
On Wednesday morning, after visiting Nurburg castle, we went for a ride to Cochem, which is right on the river and only about 50km from the track. It's a really pretty town and the scenery is incredible...
It was then back to the track for the evening session. It was very quiet and nice and dry and we managed a good few laps. On the last lap I had a good rumble with Simon in his van. I went in front for the first few corners, just to show off, and then let him past. Jeeez that van shifts. 115mph and he changes into top gear! We then swapped places several times during the lap and both thoroughly enjoyed watching each other.
When we got back Richard, who had been in the passenger seat in the van, told me that I looked like I was really haulin'. I did advise him that it was only because my knee was dragging the tarmac at every opportunity, although I must confess that the right peg dragged on a couple of occasions.:devious
It was then back to the hotel for the last night of beers and home the next morning.
The next trip is planned for the end of May '07 (with others in July and September) so if anyone else wants to tag along then they're more than welcome.