Discussion Starter
•
#21
•
... The problems really seem to come if there are any air leaks in a system filled with DexCool
Exactly what I told the new owner. Something within system caused it to get like that. Which could be almost anything. Hence one of the reasons it's torn apart. No sense cleaning it if it will just happen again, right? Time and money down the toilet. Two primary culprits at the moment are the blown Mechanical Seal (coolant leak) and Radiator Cap. This of course assumes no holes are present in the Radiator.
According to the article you provided... "A faulty radiator cap" can cause oxidation. Would you say this radiator cap looks faulty :lol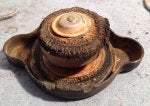 I'd try the detergent flush using dishwasher cleaner as the detergent and toss in a can of methylated spirit ( or plain methanol if you can get it).
Okay, I got some dishwasher detergent and mineral spirits (only spirits I could find). Girlfriend would chew my ass if she knew I purchased something for this bike (especially after blowing nearly 3 grand on mine) but you got me curious now Snowy. Let's give it a shot.
NOTE: The reason everyone hates DexKill so much is due to its high probability of failure and destruction. Sure it's okay when everything is fine, but how often is everything fine? On a TL? :uhoh