Discussion Starter
•
#1
•
So, been doing a week+ trip with friends since 94, this year we decided to explore some new areas as we've been everywhere from New Mexico to North Dakota to central BC and all roads in between, so flew up to Anchorage and rented bikes from Phil at AkRider.
Only did 2k miles but about 500 of those were gravel, getting from Tok, AK to Dawson in the Yukon, and heading north from Fairbanks to Coldfoot on the Haul Road 60 miles inside the Arctic Circle.
No real drama except Theo launching his bike off a cliff on the Top of the World Hiway into trees and totalling his second bmw in as many years, fortunately he's got plenty of money and wasn't hurt so serious issues avoided.
The KLR worked great for a dirtbike on the road, vstroms were pretty poor offroad, F650 Dakar's were the best all around bike.
Entering Canada on the T.O.T.W hiway. Gravel road for about 100 miles with a little border crossing in the middle of nowhere, general elevation was 4-5k feet. The little KLR will hit 90 on gravel when being chased by a massive rain cloud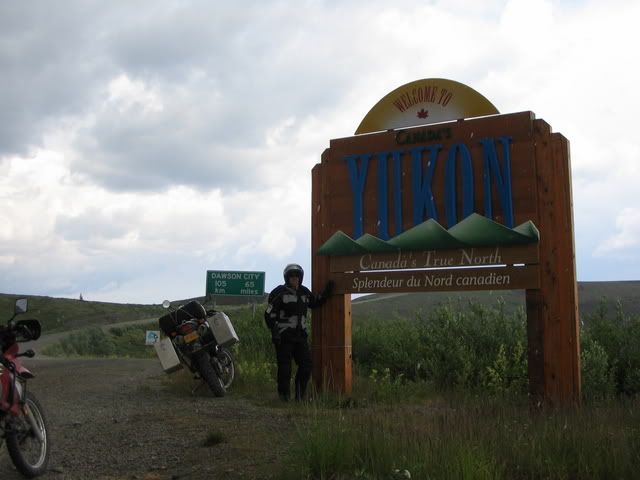 The road is up there about 30 feet. Took 5 of us to haul/ride the bike back up as the sat phone was sporatic and Dawson and a wrecker were 30 miles away...
Hit the sign and continued north for another 60 miles. No, it never get's dark up there this time of year and difficult to tell the time after about 8 pm.
Camped in Coldfoot inside the circle and road an ATV trail to a stream. Avoided local mother Moose, apparently the most dangerous animal around, but didn't avoid the rainstorm that lasted all night.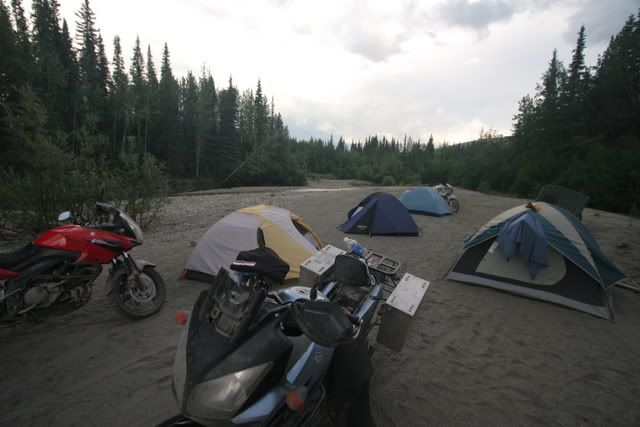 Jeff, friend I race enduro's with, finds out how bad the vstrom is on slimy trails, dumps it over and possibly blows his MCL (get's it scanned today)..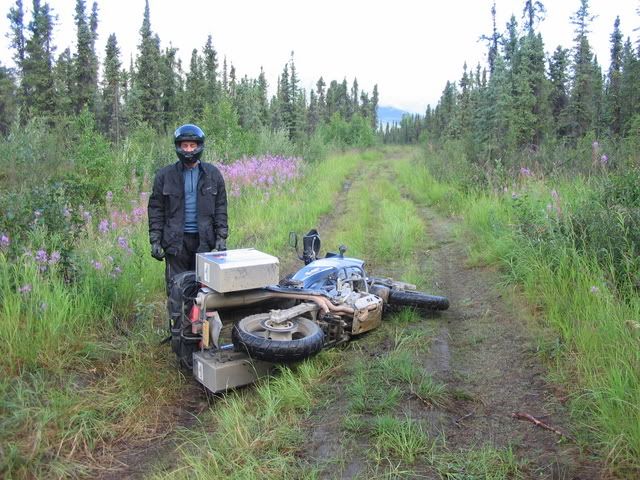 Headed north up the Haul road constructed to get equipment to the Prudhoe bay oil station and maintain the pipeline.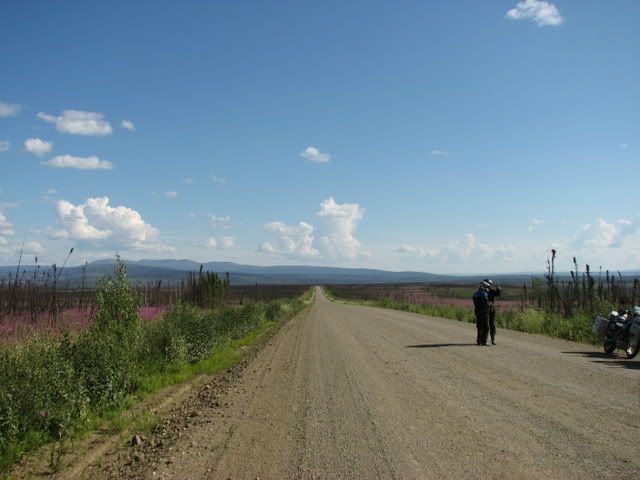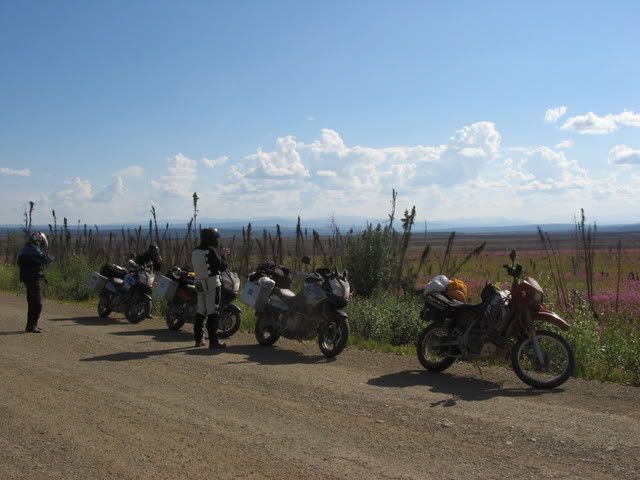 Stopped in the circle for a couple of pics of the trusty KLR.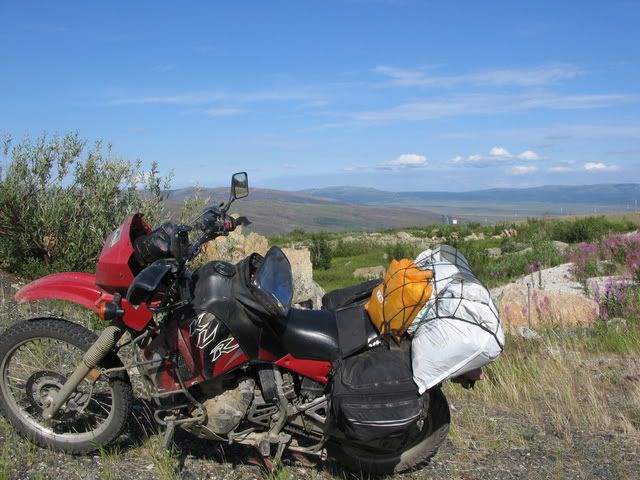 Last night of camping, on the Kaleetna river between Anchorage and Denali with McKinley in the background, it's about midnight in this shot. Having a few cocktails, playing F your buddy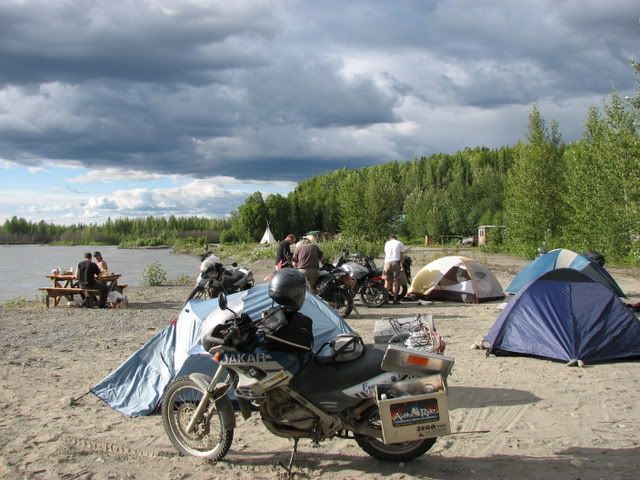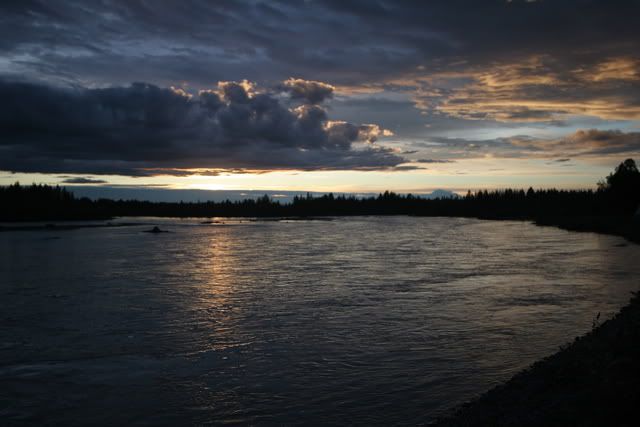 This years participants. Range in age from 27 to 44 but all feeling pretty young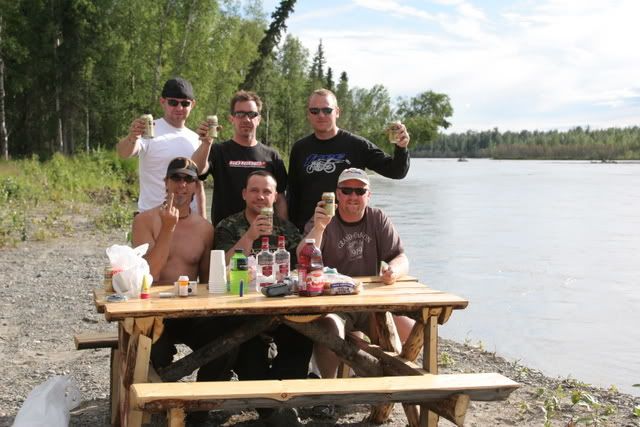 All in all a great trip with some drama, as usual, but everyone makes it back safe.
If anyone has ever thought about doing Alaska, don't wait, totally worth the time and money!
Next big trip is South America in a few years:hail