Discussion Starter
•
#1
•
I recently received my Hyper pro spring and went through the effort of replacing the rear spring into the existing spring mount.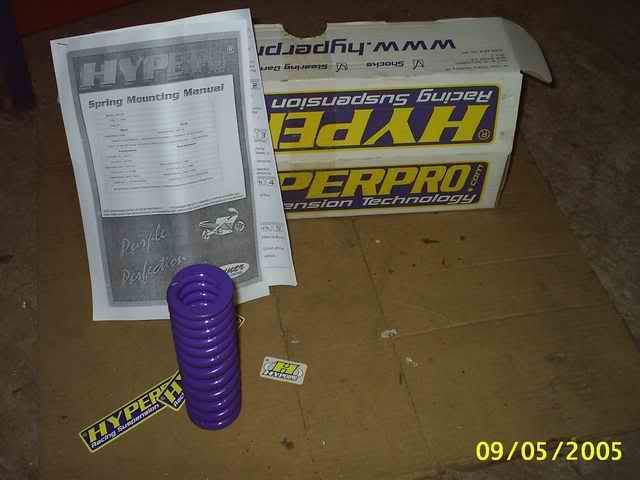 Here is how to do it.
The 1st part is remove the spring and linkages from the bike (I won't show that as it is in the workshop manual) and then remove the linkage from the spring assembly, being careful not to have any of the bearings fall out. Note that it is also easier to remove the spring & linkages if you remove the rear wheel.
The first part is to carefully remove the "rim" above the adjusting locknuts on the top thread of the spring assembly. This is done as per Maxton site. Best done in a lathe or VERY carefully by hand, don't remove to much material or damage the threads. This is removed level with the shaft, OD 28mm.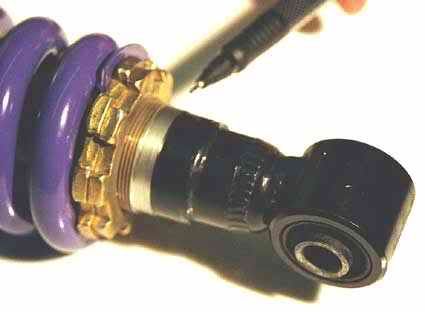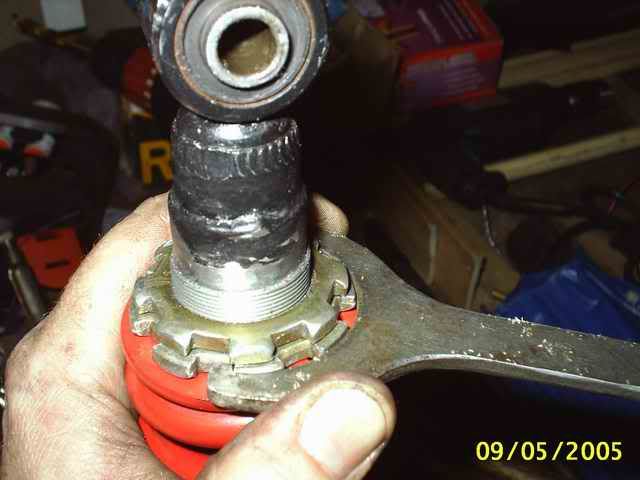 Then the locknuts are removed upwards to slacken the spring totally and allow the spring to move up. Note that the locknuts will not be able to be fully removed until the spring itself is removed.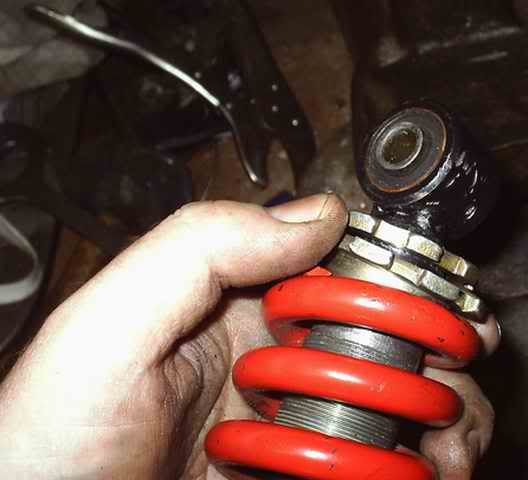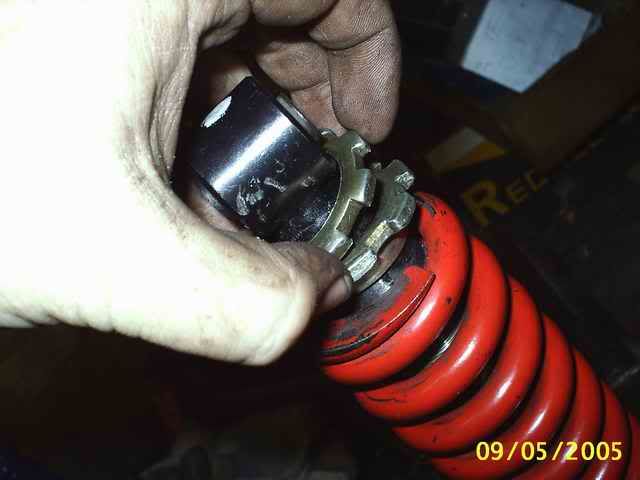 Turn the spring assembly upside down with the U-bracket facing upwards. Remove the peening on the shaft thread on the bottom to allow this to be removed.
Put the U-bracket of the spring assembly in a vice. After moving the spring upward the threaded collar can be reached and loosened slightly. Also move the rubber "stop-bump" grommet on the shaft slightly upwards.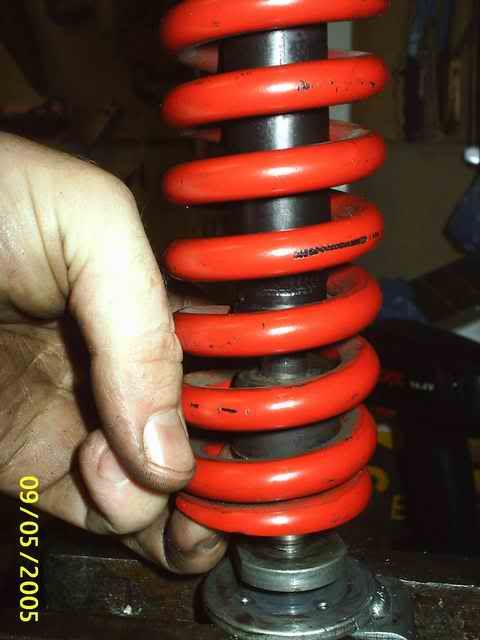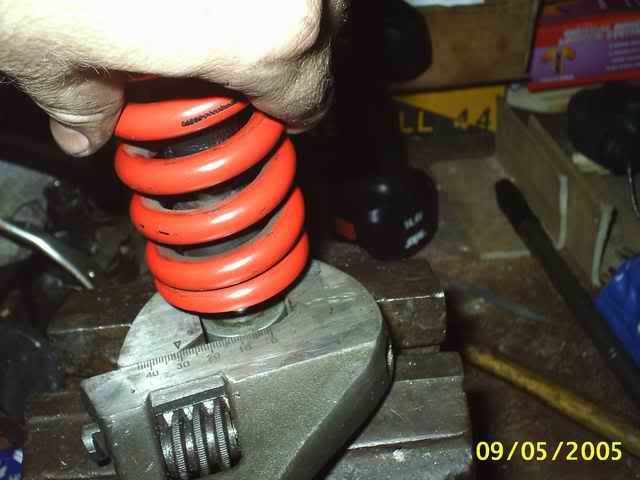 Carefully grip the spring assembly shaft (so as not to damage surface) and undo from the U-bracket. I used Vice-grips and gripped the shaft as low down as possible. This was why I only slightly loosened the collar previously, so I could grip the shaft low down.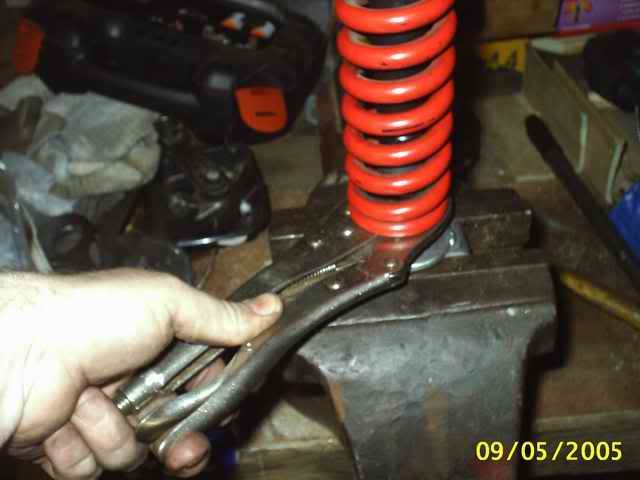 The whole unit can be dissassembled. Seen here with new spring.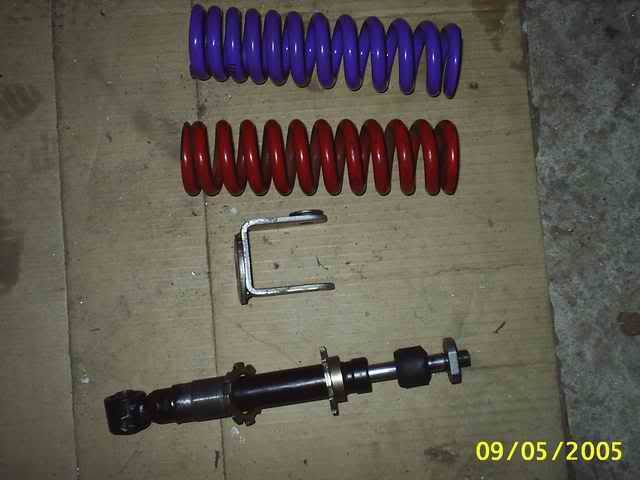 Reassembly is the reverse excepting that "locktite" must be applied to the shaft bottom thread and once assembled these threads must be repeened to further lock them.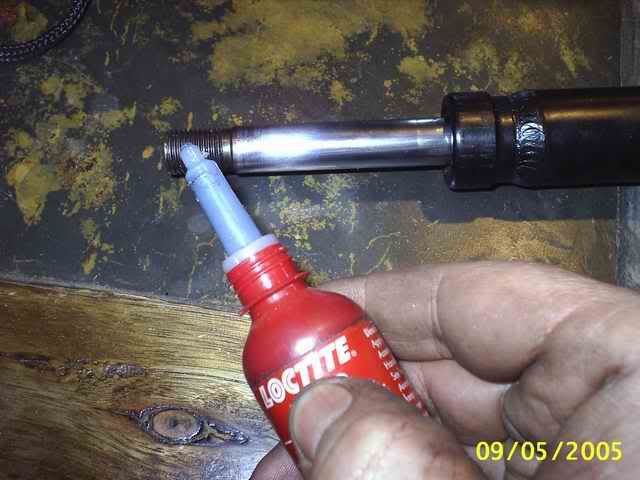 Then regrease and assemble linkages to spring assembly and refit to the bike.