Discussion Starter
•
#1
•
I have been mulling over where to put this thread for quite some time now. The "Open Forum" seems to be the best fit for now. If this doesn't work maybe a moderator can move it.
Please don't consider this to be my thread. If you feel inclined to add your father/son memories and experiences to this thread, be my guest.
Toward the end of May this year my father died at the age of 82. He lived longer than any of his recent forefathers, and only suffered with moderate health issues in his "golden" years, so that can be considered a good thing I suppose. The reason I am posting this is while going through his belongings and family photos, I was reminded of how much he has influenced me throughout the years, even though I haven't lived near him for the last 35 years. Like many parent/child relationships, the influence begins at an early age - we are made that way, I suppose. He was riding scooters even before he met my mother. Of course, in time he graduated to motorcycles. By the time I was born he had made at least one, maybe two, long motorcycle trips to various states in the western US. His ride of choice back then was a Honda CA77 Dream (305cc; early 60's model year, but the exact year will require more investigation).
One of my earliest memories of being on a motorcycle is probably from when I was about four years old - maybe five. By that time Dad had upgraded again to a 1965 Honda CB450. Over the years, a pattern developed. He often purchased the first model year a new model was available, and it was not unusual for him to have the first or second one that came into town. He was one of those guys who spent hours down at the local dealer kicking tires and talking to the help and customers alike about his great two-wheeled adventures and the latest must-have hardware and gadgets. I'm sure my first motorcycle ride was hotly protested by my mother, but all went well. No limbs were lost nor skin removed. I was too small to sit behind him and reliably hang on, so I was put in front between Dad and the fuel tank. I remember the goofy half helmet that was at least two sizes too large wobbling around on my head. However, most vividly etched in my mind were the vibrations and noises made by that Honda twin with the wind in my face as we went around the block once or twice. All the while I bare-handedly hung on to the handle bars near the stem with my heart racing - that was exciting stuff! Looking back, I think the hook was set then and there! Even though I don't recall riding with him again on the 450, I think something in me was triggered - maybe genetically - to make sure that I would be on motorcycles myself some day. Although, any future excursions with the CB450 saw me in the sidecar (Maybe my mother had more influence than I realized), my spirit wasn't dampened.


These are photos my father and his bikes. The children are my oldest brother and older sister.
The Honda CB450.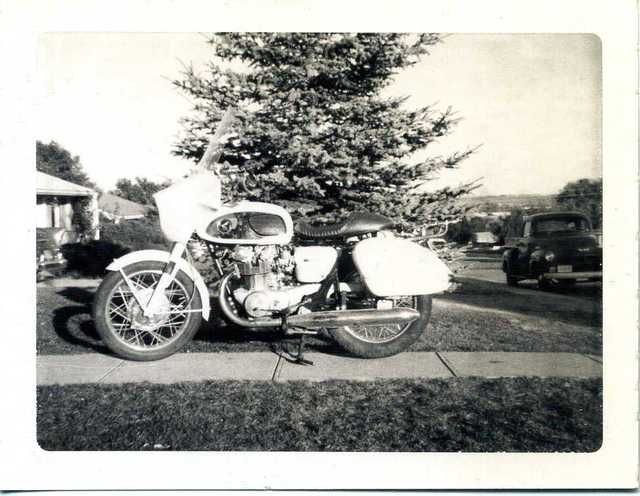 The CB450 with a Steib 500 sidecar.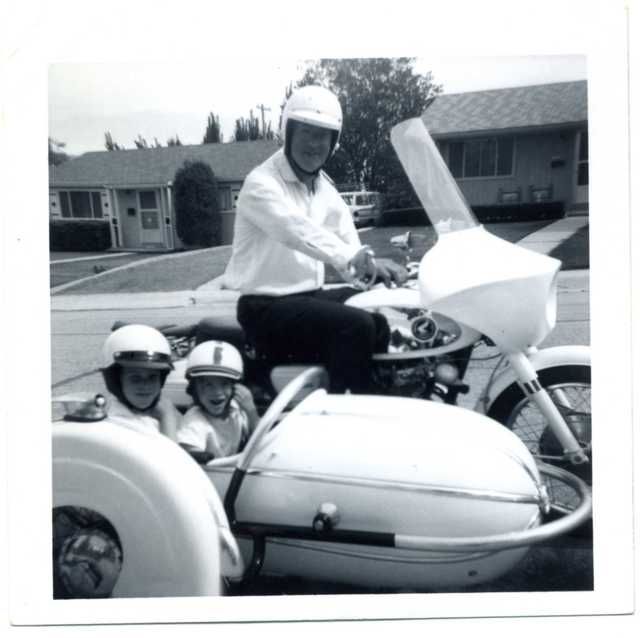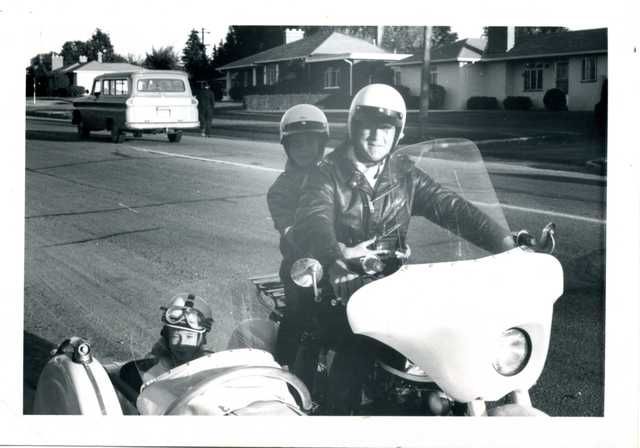 He also owned this rig for a couple years. It was a BMW 250 single with a Steib LS200 sidecar. I'm not overly familiar with BMWs, but from the little research I've done, it was a 1960 R/27. If anyone knows classic Beemers, feel free to correct me.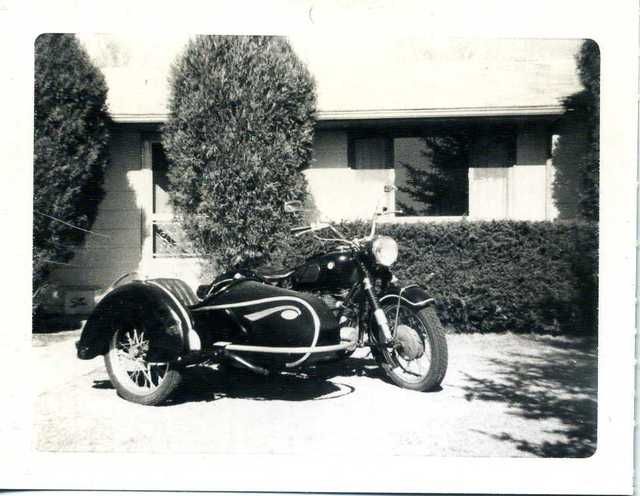 This was a friend's Honda CL450 with what I think is the same Steib LS200 sidecar mounted to it.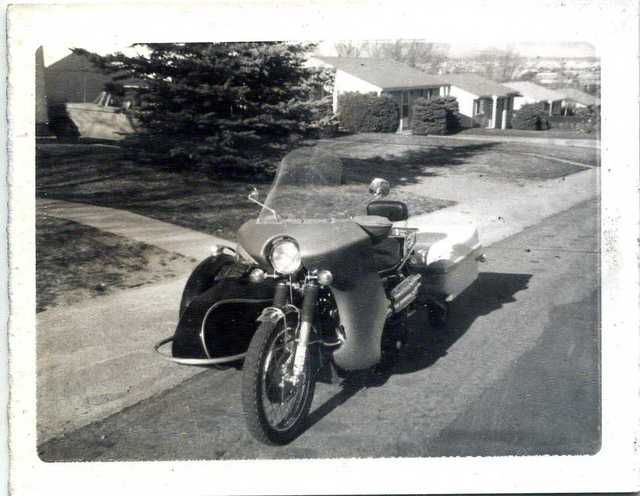 As time marched on, he traded the CB450 for the second Honda CB750 Four that came into town - hello 1969! That beautiful candy red! No more dull black or white motorcycles. That 750 had a beast of an engine for the day. It was new and exciting, sounded good, and was incredibly reliable. Back in his early years, my dad encountered traffic 'incidents,' as many youngsters do, on his previous scooters and motorcycles. The worst of which was when he was 16 or 17 and on a Cushman scooter. A lady pulled in front of him, and he T-boned the rear door and flew through both windows of the rear seat and out the other side of the car. Fortunately, the wide brimmed felt hat he was wearing folded down around his head and protected him from any serious lacerations. As many of you old timers know, safety gear was not popular attire in the 1950s. However, it was on the CB750 that he suffered the worst accident of his riding career. I'm fairly sure it was in July, 1970. Again, a lady pulled out from a side street in front of him, and she had a car full of children. My father, having five children of his own at the time, didn't want to ram the side of the car, so he braked as well as he could, but still went down and ended up sliding into the car. No children were harmed, but he suffered two broken vertebra. His ribs and ankle were also injured, but I don't recall the severity. He would tell the story that he died from that accident that day and later came back to life. How far gone he actually was is difficult to say, but he was injured badly. Still, in time he regained most of his movement and strength. When strong enough, he replaced the frame on the 750, since it was bent in the crash. Afterwards, he put on approximately 80,000 miles on that bike, both solo and while pulling various sidecars. In hindsight, I would guess that two thousand of those miles were with me riding pillion or in the sidecar. Fun times! Then 1975 rolled around......

This is the '69 CB750 Four (K0) with a Watsonian two-seater sidecar mounted.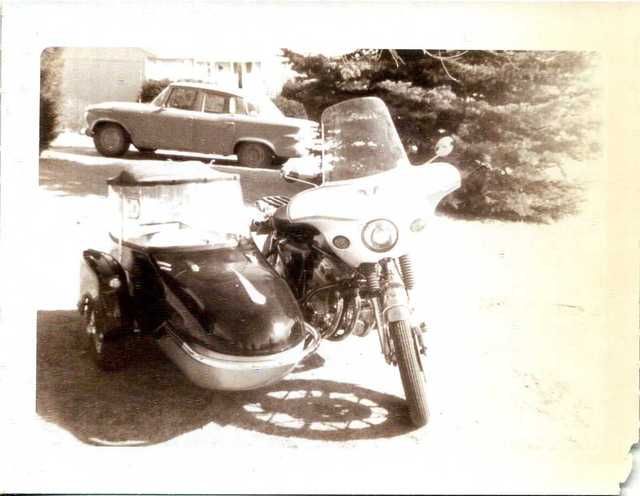 His long time riding buddy picked up the second '75 Honda Gold Wing that became available, so naturally, Dad had to have the third one in town. The Gold Wing brought in an entirely different era of motorcycling for my father, and others. Yes, it was big and wallowy, but it was so smooth and had the grunt to carry a full set of hard bags and a Windjammer fairing, along with plenty of gear for two-up riding. The big touring rigs were in vogue and my father wasn't going to miss out on the movement. This new fad fit his style. He was not a hot rodder, but like many of us, he liked to 'open it up' once in awhile. I don't know how many miles he accumulated on his Gold Wings (he had at least three of the first generation Wings, and one 2nd Gen over the years), but I would guess in the range of 150K to 200K miles. Sidecars were also a very popular accessory he would often attach to his Wings. They enabled him to ride year-round there in Colorado. When I graduated from tech school, he even used a Watsonian sidecar chassis with a flat-bed bolted to it to deliver my newly purchased Honda CR480 dirt bike to me in Phoenix, AZ. He got plenty of strange looks during the trip. I have photos of it somewhere around here. I'll post them when I find them.....
He also developed a fetish for the beloved Honda CBX. Through the eighties and early nineties he owned at least four of them (maybe five). On that note, I'll wrap up this post until I can find more photos and information.
As I mentioned before, if anyone else would like to share some history or thoughts on their father's (or mother's) influence on their riding career, feel free to do so here.
Cheers until then.