And I have 4 words for y'all..."who needs the street?"
It was sooo much fun I'm gunna try to get out again on th 29th.
I was absolutely amazed at several things.
First, I never realized that my bike was capable of doing the things it did such as tires holding the road so well, heavy braking, diving into turns at high speeds.
Second, it was also amazing that the difference in my riding cababilities from the first session to the last session was like night and day! It just got more and more intense everytime I took the lectures the instructors taught us and applied it to the track.
I even got so low in a left hand turn that I scraped my kickstand and my back tire loosen up a bit(ass puckering moment!!!).
Now, I'm not bragging because I'm only a beginner and there were much better riders than me out there, but all of the instructors told me that they were very impressed by the way I handled my TL. In fact they gave me the OK to pass anybody I came upon (as long as it was a safe pass). They also said that they would want me to come back and ride with a "control rider" because they think I could already advance to the intermediate group. However, I think I would rather stick with the beginner group for at least one or two more track days again. Then next season I would like to move to the intermediate group. What do you guys think? Is that a good way to think on my part?
One other thing I noticed. Of all the beginners that took this basic training course, the TLR was one of the oldest bikes there. Every other beginner was on big liter bikes(R1, CBR 1000, Ducati 999, GSXR 750 and 1000). And(again, I'm not tooting my own horn), in the last few sessions when the instructors gave us more freedom to play I smoked every single one of these bikes in the corners!
In summary, I'm hooked!! I think I'm going start investing in some stuff over the winter so I can start doing track days on a regular basis. Screw the street. It doesn't hold a candle to the track!
The wife took a few pics but they're not that good, but here they are.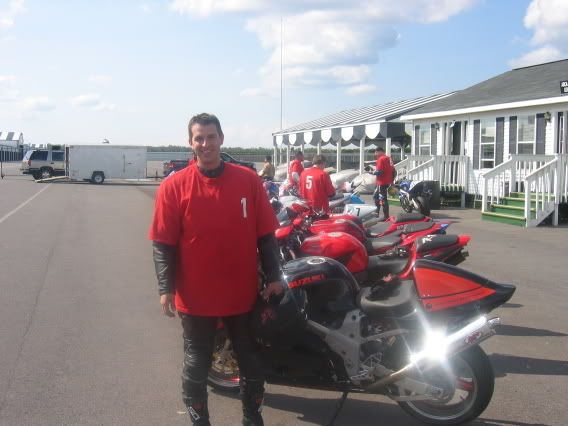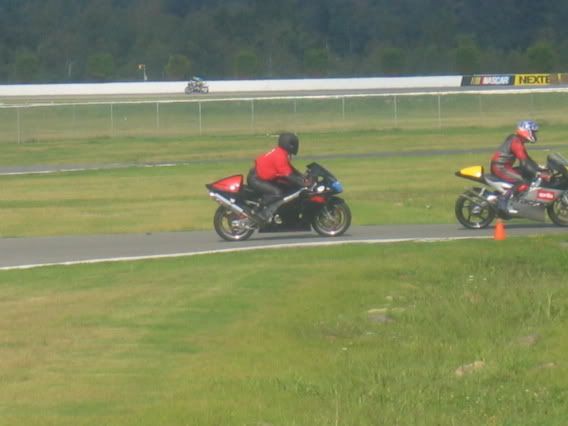 And here's a crappy wheelie for posterity