·
Scooter hottie chauffeur
Discussion Starter
·
#1
·
I have this cover in hand, ready to ship.
it's slighly lighter in color then the SV or Cajiva Raptor metalic flake color. I shot white under the silver flake and it makes it brighter and lighter. However it does not match the Raptor, so I ended up shooting another for the guy with blue under the metal flake and it matched perfectly.
now I have this cover and ship immediatly.
as far as I know, other then two Raptor covers I have done, this is 1 of 2 with the silver metal flake and black ring.... in the world.
if you are looking for something that is different, and doesn't have to match the other black parts of your engine, you are in luck.
$75 USD + exchange of your OEM cover (includes shipping to you)
the first person to call dibs has 24 hours to make payment. (please note this is also being posted over at TLPlanet.com and I will use the time stamp on the "dibs" post either here or over there as the official "first person"
the flash makes the paint on the ring look goofy, almost like it's bubbled, but that is just an optical illusion... people know I don't let things out of my shop that I'm not happy with.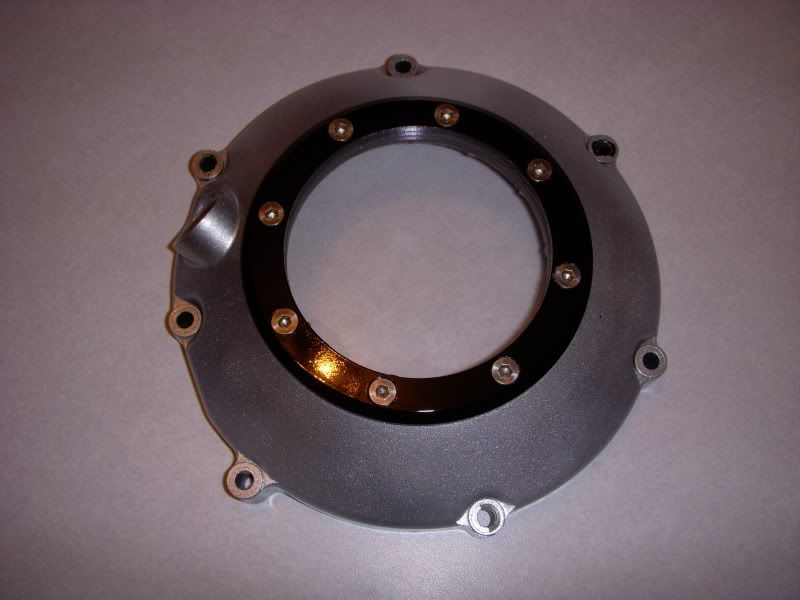 Ready....... begin