Discussion Starter
•
#1
•
It's odd, I wanted to update the original thread kindly started by Toledo, but it's gone?!?! :dowhat
For those that don't know, you can read this post, otherwise move onto the next one I'll do:
So, I was minding my own business doing about 60mph when I rounded a left hand bend and found a car on my side of the road coming towards me. I had little option but to hit it square on. :banghead Luckily they admitted full liability and aren't fighting it :thumbup
The impact snapped the forks of the bike and generally mangled the front end. Here's an extract from the salvage report:

And here's the bike: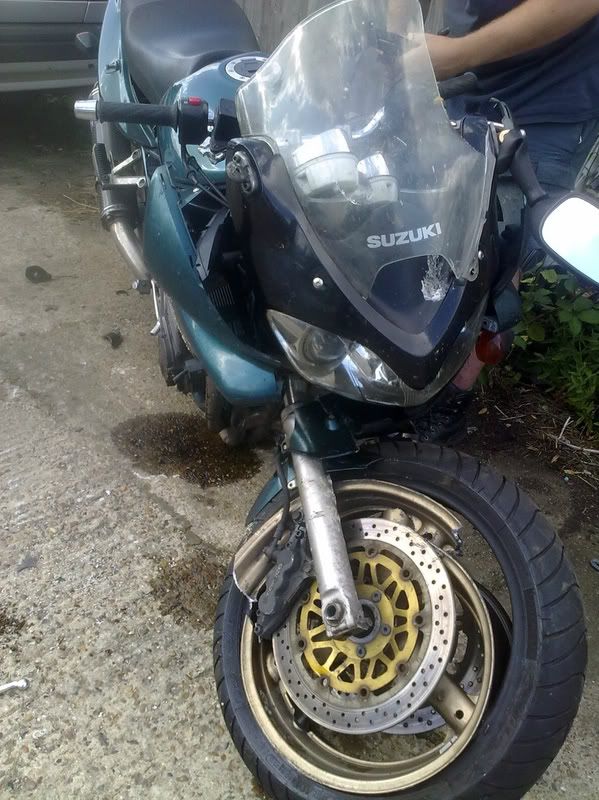 It kinda doesn't look bad, but both forks were snapped clean through and are propping the bike up, the frame was bent, the wheel was ripped like paper, etc. This is what a human pelvis can do to a petrol tank :scared: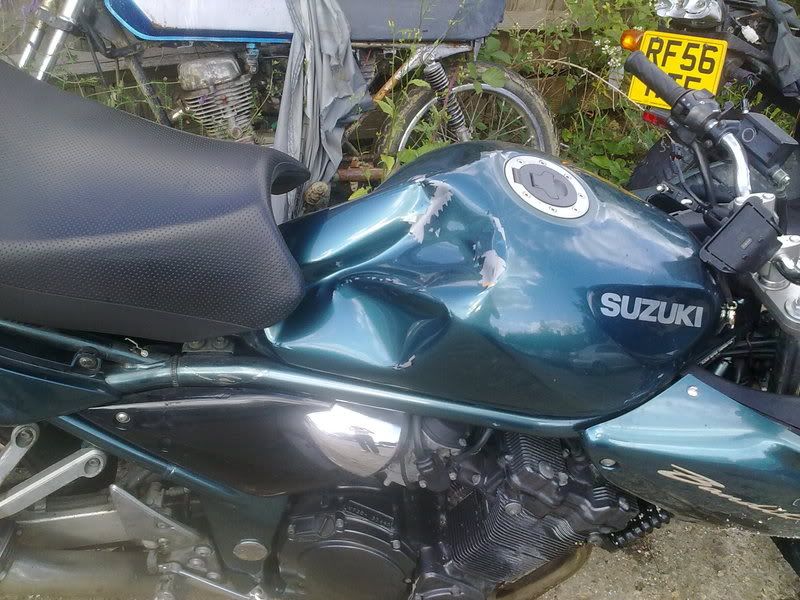 As for me, I broke my pelvis into two separate halves: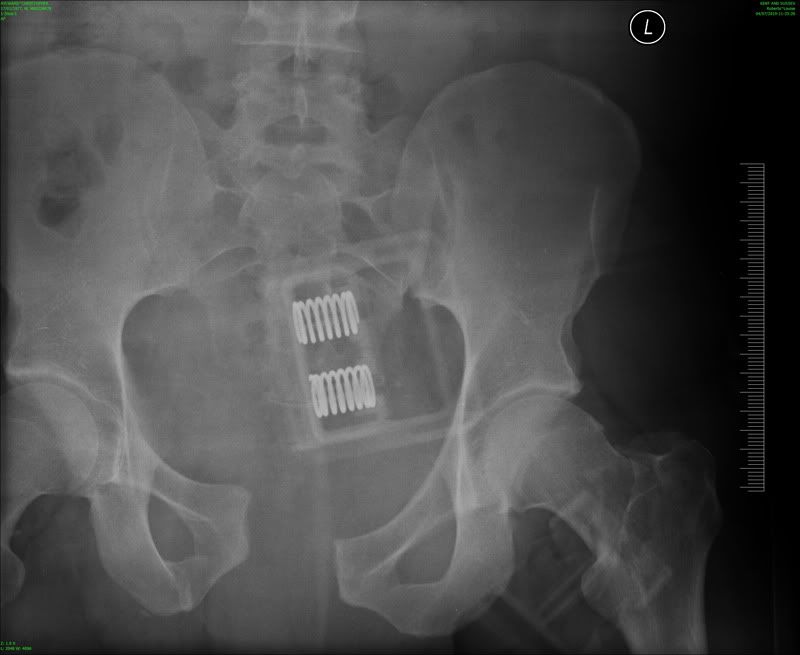 I also broke my hip (the bit of the leg bone near the ball join) which you might see in the above pic, although the straps they put on me kinda held things back together temporarily. It looks like a hair line crack, but it was because of breaking this completely that meant I landed with my left foot behind my right shoulder. It's quite common I've been told, but I moved the leg back so it was 'straight and proper', listening to bone rubbing against itself as I did so. I kinda compared my leg to one of those draft excluders you can get for the bottom of a door, it was bendy in all directions! :dowhat
I also broke my leg quite a bit: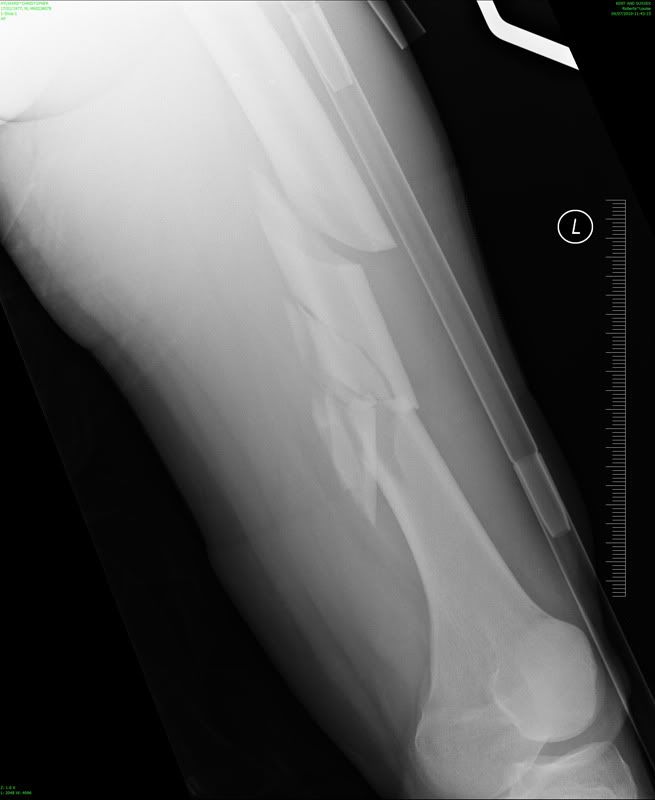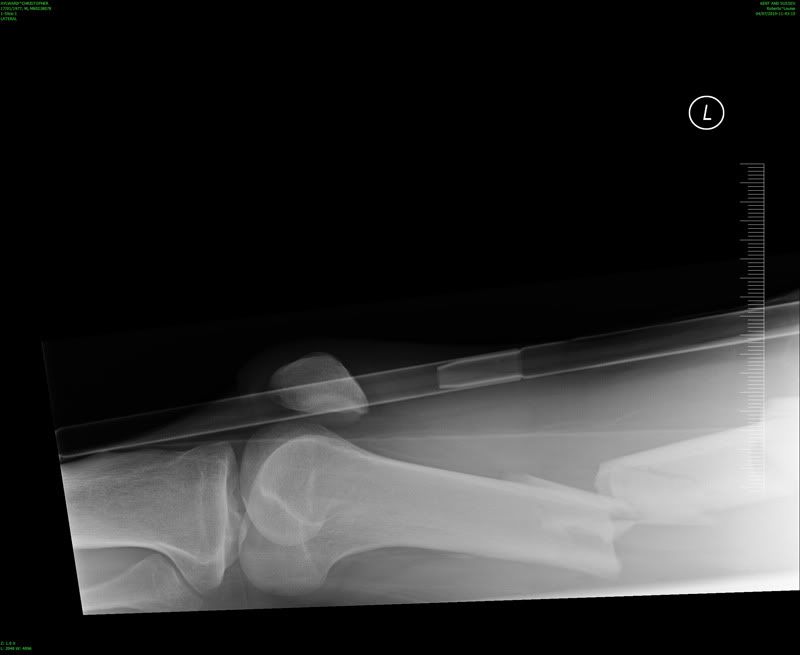 Luckily there was a top surgeon available at the time and so he did this over the course of 3 operations, one a week for 3 weeks ranging from 10 hours to 5 hours in length:
So I have two 5 inch bolts holding the back of my pelvis on, a bracket holding the front of the pelvis together (most of the original got smashed to bits) and a metal rod from my knee up to my waist.
Here's a few hospital pics, firstly showing the temporarily external metal work (fixators I think they're called):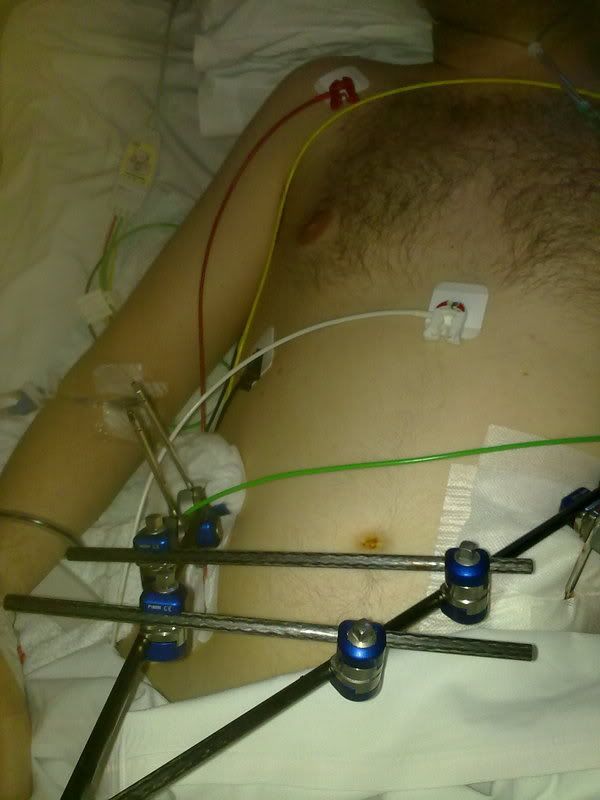 And no, I haven't crapped myself, it's "body fluid" from the surgery!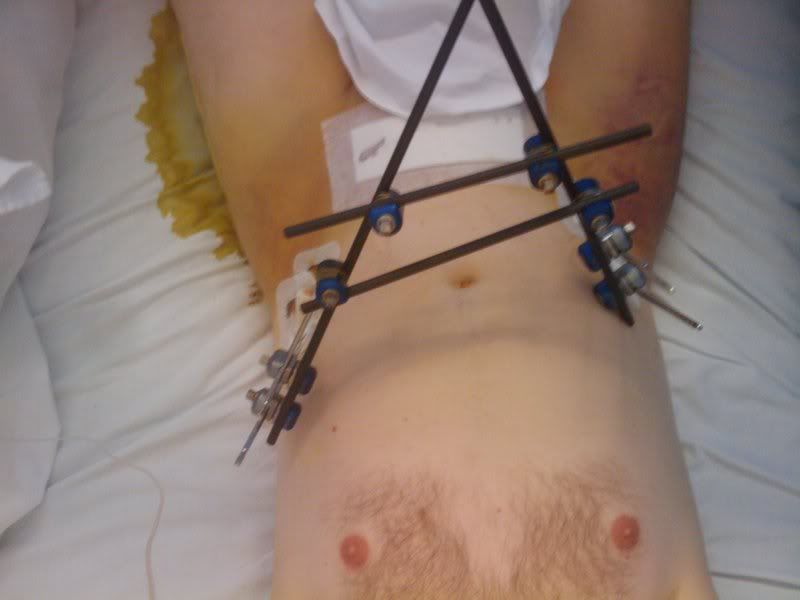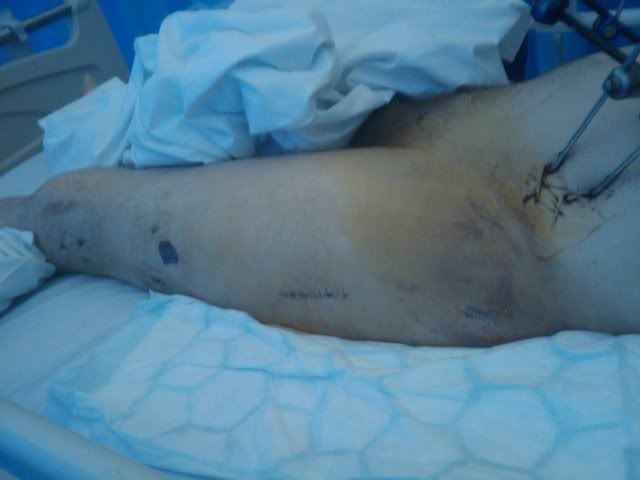 Here's one of me getting outta bed for the first time in a while...the drugs I took before hand "made this image possible"!: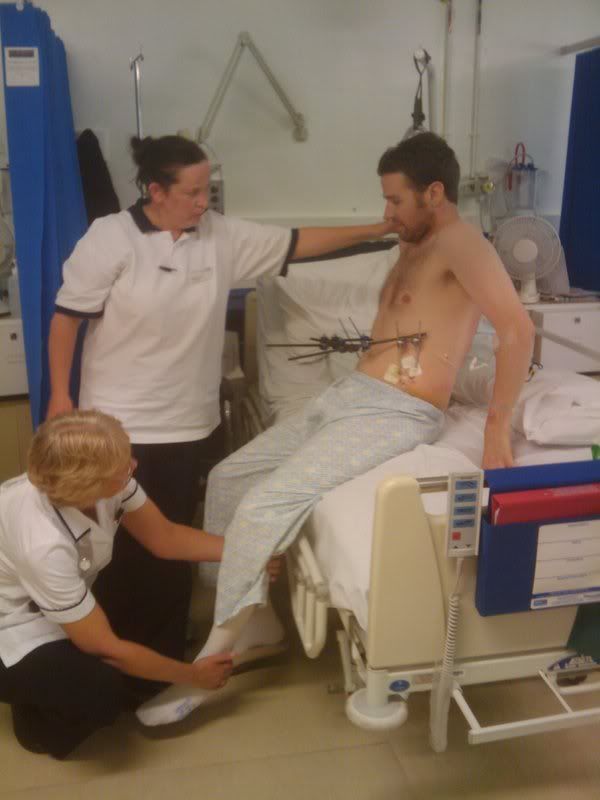 Irritatingly after a month in hospital, 5 months rehabilitation and 3 months of thinking I was getting better, I had to have another surgery on the leg. While the pelvis and hip bones had re-joined nicely, the leg was completely buggered and was barely joining. So I had another surgery to remove the old leg rod and put a new one in (to promote bone growth), had another month rehabilitation then Hydrotherapy and Physiotherapy again to gradually come off crutches.
So that's the main bit, hope you're still awake! :laugh